See who Funlola Aofiyebi-Raimi bumped into on a London street
No Case Matched!
Actress, Funlola Aofiyebi-Raimi who is undergoing training in a university in West London, on Friday posted a picture of someone ahe bumped into on a street in London.
He is non other than one of the most creative talents in Nigerian industry, Folarin Falana, AKA Falz.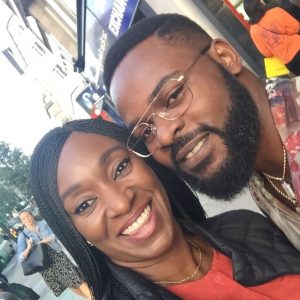 Although she did jot reveal what Falz was doing in London, she was however glad they met.
She captioned te picture thus:
"Guess who I joyfully bumped into on the streets of…………… Yup, one of the most creative talents in Nigerian entertainment. 🙌🏾💪🏽👏🏽👍🏽👌🏾President of the Sweet Boys himself!! Anyway it's good to know we 'fan' each other!!🎬😎🤩💃🏽🎭😜🇳🇬#GoFARwithCreativity #Blessed #Nigeria #Entertainment #Actors #Talent #CreativesRock #Appreciation #Africa #Passion #Success #StreetsOfLondon #NaijaToTheGlobe #SBA #Celebrate #FunlolaAofiyebiRaimi @falzthebahdguy."