Actress, Uche Jumbo threatens to block fan on Instagram
No Case Matched!
By Patricia Uyeh,
Nollywood actress and mother of one, Uche Jombo came under attack from a fan, who felt like that she needed to improve on her dress sense.
The actress did not take it lightly as she insulted the fan and threatened to block her if such situation reoccurs.
It all started when the 37-year-old actress shared a photo of her on a black outfit as seen above and captioned it:
"If you want to fly, you have to give up the stuff that weighs you down."
The fan,  who felt her fashion was out of place attacked her saying:
"Uche Jombo I am begging you, please please please change your wardrobe."
And the actress reacted thus: "Are you ok? This is a character's wardrobe hence the #SETLIFE.. I will block you next time you come here talking about what I wear as Uche Jombo ..Its NEVER going to be your business."
See the post below: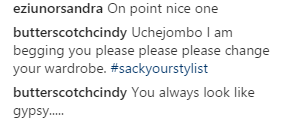 Photo credit : Instagram @uchejombo