13 years after, Fountain of Life Church remembers Pastor Bimbo Odukoya's legacies
No Case Matched!
Late popular preacher, Pastor Bimbo Odukoya, was yesterday remembered by her church members.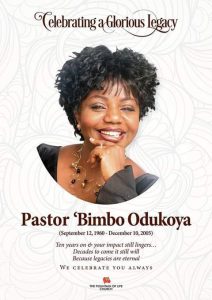 I
Pastor Bimbo was the wife of the Pastor Taiwo Odukoya, Senior Pastor of the Fountain of Life Church (TFOLC).
Pastor Bimbo died in a Sosoliso aircrash on December 11, 2015 in Port Harcourt
In a post on the church website. they extolled Pastor Bimbo's selfless commitment to God and to humanity.
The message read: "Today we remember a gem, a woman whose selfless commitment to God and to humanity at once challenges and inspires.
"Your voice still resounds in our hearts, still potent, still urgent, still calling us to rise to heights of moral excellence, competence and service. Today, as always, we celebrate you, Pastor Bimbo Odukoya, even as you beam down on us from amongst that great cloud of witnesses.
"We join countless others from across the world, living epistles whose lives were touched by the angel that were, the angel that you are, in calling your legacy blessed. You live on Pastor Bim. You live on."