Actress, Yvonne Jegede says she now has to take permission from her parents to go out
No Case Matched!
Nollywood actress, Yvonne Jegede has revealed that she now has to seek the permission of her parents to go out and must return home at a specific time.
The reason for this, according to her, is because of her four months old son, Xavier.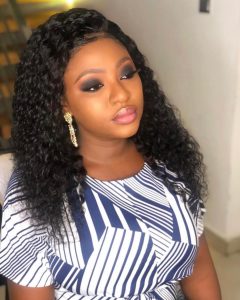 She, however, stated that she can't complain because she is grateful to God for His grace is sufficient for her.
"These days that I have to take permission from my parents to go out and I have a certain time to be back home because of my oga Xavier, life has become even more interesting 😂😭😂🙆🏽‍♀️.
"Everything works out for good in my life. I can't complain, nothing to complain about because I'm grateful to God for His grace is sufficient for me." She wrote.
Yvonne recently confirmed that her marriage to her fellow actor, Olakunle Fawole, popularly known as Abounce, which was contracted in 2017, has broken down.
Only last week, Abounce posted a picture of him and his son in a playful mood on his Instagram page. This was the first time he would do that since the boy's birth late last year.