Skales celebrates 1st anniversary with girlfriend
No Case Matched!
Nigerian rapper, singer, and songwriter Raoul John Njeng-Njeng, better known as Skales, and his girlfriend,  Rwandan-Canadian singer, Neza, are celebrating the 1st anniversary of their relationship.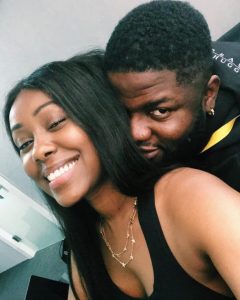 t
They both took to their respective Instagram accounts to celebrate their love for each other with sweet messages.
Neza wrote:
'Happy 1st anniversary my king!! @youngskales I'm grateful for the lessons we learned so far…Thank you for loving me unconditionally and for being my biggest fan! I got you for life boo!! Ps: Your wahala is nothing I can't handle. God made sure to equip me with everything we need to survive. Plus you do an excellent job at making it up to me…Oya let's turn up!! Today is our day!"
While Skales wrote: "Happy 1st !!!! Thanks for tolerating my stubbornness and all my f**k ups  my queen 
@thisisneza LOVE YOU SO MUCH.'