#Relationship Goals- President Barack Obama and his wife, Mitchelle celebrate 24th wedding anniversary
No Case Matched!
President of the United States (POTUS), Barack Obama, yesterday, celebrated his wedding anniversary with his lovely wife, Michelle. President Obama had posted on Facebook, a cute, candid shot of himself and his wife giggling while dancing at the 2009 Nobel Banquet in Oslo, Norway. He tagged the image, "Dancing through 24 years. Happy anniversary,"
Over on Twitter, POTUS shared a snap of himself giving the First Lady of the United States (FLOTUS) a peck on the cheek after the State of Union address in 2010, with the caption, "Side-by-side for 24 years. Here's to many more. #happyanniversary."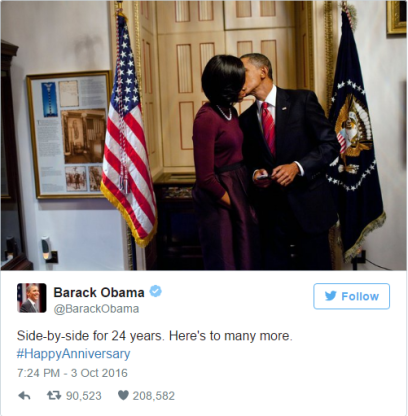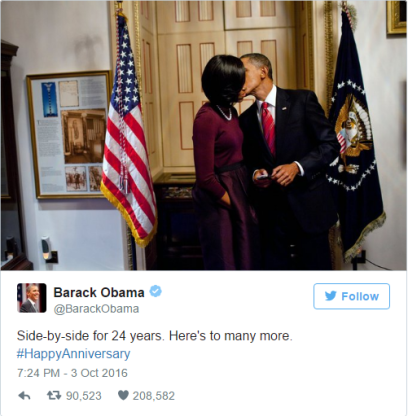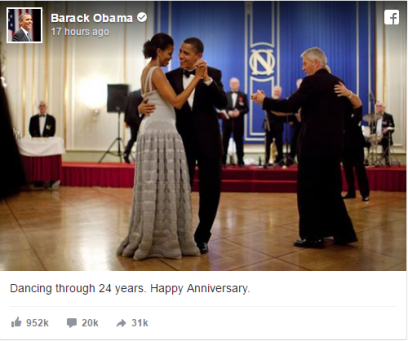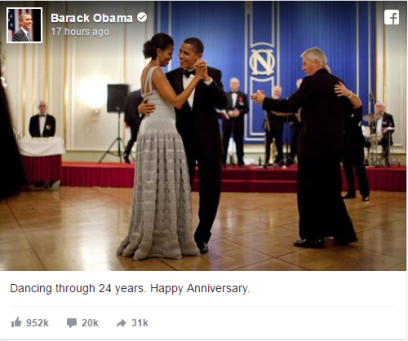 They are arguably the best and most romantic couple in the world. The couple met at a Chicago law firm in 1989, after Michelle was appointed Barack's advisor. They  had spent their first date visiting the Art Institute and watching Spike Lee's, Do The Right Thing, and have been inseparable ever since. Mitchelle Obama was quoted saying:
"We clicked right away…by the end of the date it was over…I was sold,"
President Obama and his wife, Mitchelle have been married since 1992 and have two daughters, Malia, and Sasha.